This post contains affiliate links.
In exploring the food world; it's fun to learn about food that starts with Z. Here you will get an extensive list of foods, fruits, desserts, and many more foods with the Z alphabet.
If you are a food lover or writing a cookbook or report this article will help you a lot. Let's have a look below at our list of 31 Foods That Start With Letter Z and a description to guide you.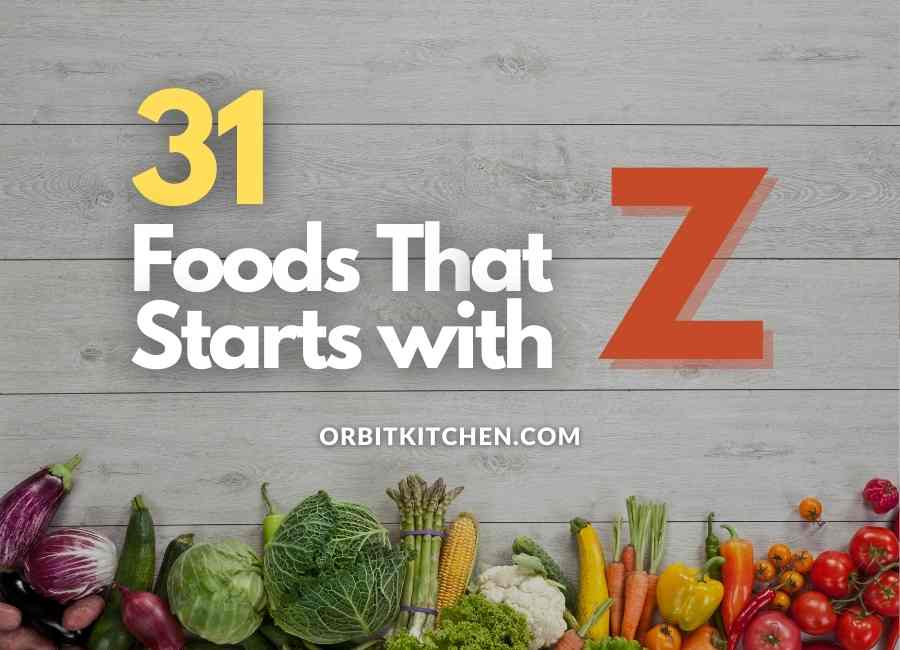 Food That Starts With Z
This category is compiled with the variety of food eaten by different parts of the world. You will get an idea about all kinds of food including desserts, fruits, snacks, and other food.
1. Zalzalak Fruit
Zalzalak is a Persian word. The name in English of this fruit is 'hawthorn'. It normally grows in northern Europe and northwestern parts of Iran. Usually grows at the end of September (autumn).
Zalzalak is a combination of sweet and sore that gives extreme satisfaction to your taste buds. This yellowish pink with red blush fruit is filled with antioxidants. It is normally served as an appetizer.
The flower buds and young leaves also are edible and tender and young leaves are served as a salad. In the UK it is used in jelly and homemade wine.
2. Za'atar
The Za'atar plant was used in Ancient Egypt. It has historical significance for Palestine. The plants and food serve as a signifier for Palestine refugees. It was used by Arabs and now it is mainly used in Israel. 
Za'atar is dried in the sunlight and then mixed with sumac, sesame seed, and salt. Commonly eaten pita that dipped in olive oil and then Za'atar. The moistened mixture on bread with olive oil is called Zeit ou za'atar. Or za'atar-wu-zayt.
It is also used on meat, vegetables, and hummus. Also served at breakfast with labneh, olive oil, and bread in the Arabian world. 
If you want to learn more about Zatar, visit this on Wikipedia.
3. Zagnut
Zagnut was launched by D.L Clark company in 1930. Mostly popular in America.
It is a delicious candy bar. Zagnut is a unique combination of toasted coconut and crunchy peanut butter.
4. Zabaione:
Zabaione was introduced in the middle of the 15th century as an Italian dessert. In 1471 it was named after on condottiere Giovanni Baglioni (in dialect 'Zuan Bajòun)
Zabaione is made up of honey, eggs, wine, and herbs. Usually, wine omitted when it is served to children. Classically zabaione egg yolk in a brain Marie and served with a wine substitute Marsala.
It was adopted by French in 1800 as a dessert cream called sabayon and now it is known as yolk based sauce.
5. Zander
Zander was firstly described by Carolus Linnaeus in 1758. It's a part of the European clad also known as pikeperch and sander, a species of ray-finned fish found in western Eurasia.
Zander normally served as smoked, fried, grilled, or baked. Its flavor is similar to pike and popular as "pike perch fillet".
The delicate and tender white flash makes it versatile being served as fillet or whole. Its taste is equally amazing either served as baked or smoked.
6. Zarzuela
Zarzuela was introduced in the middle of 1900 near the northern sea. The meaning of  Zarzuela is "variety show"  or "operetta, "Just like its name, this dish is an excellent combination of fish and seafood.
It is similar to French soup bouillabaisse. It is prepared by adding several types of shellfish and fish. Onion, tomatoes, wine, herbs, spices, and stock is added to increase its flavor. It is thought that the more seafood ingredients you add in the more the tasty result will come. 
 The recipe is completed in 4 steps and stored in the refrigerator. For serving just bring it back to simmer and add the fish and other seafood. 
7. Zampone
Zampone was introduced in 1511. The origin of this food centuries ago was Modena, which is the father of meat food. After that, it was also introduced in the central north of Italy. 
Zampone is a combination of pork shoulder meat, skin, and foot. The sausage is creamy in texture and spicy in taste. The minced meat from pig shoulder and other meat is encased in the pork feet skin.
It is partially cooked and when served it is a little heated. This can be eaten as an appetizer or main ingredient in a meal if sliced.
8. Zinfandel Grapes
The Zinfandel grapes are cultivated in the Caucasus region. Zinfandel is also known as Primitivo. Almost 10% of the whole black skin grape variety is grown in California Vineyards.
The wine gives a punchy delightful feel to its lover. It is usually served at parties and dinners with many dishes. To get the full potential of this wine makes sure to chill it properly. 
9. Zapote
Zapote is a highly ornamental tree native to Central America and México. The fruit is understood as "mamey sapote' or "yellow mamey".
Zapote fruit can be eaten raw or used in many other foods. Mostly used in ice bars for making milkshakes, smoothies, and ice creams. It is enriched in vitamins, manganese, potassium, and dietary fiber. 
10. Zanzibar barb
Zanzibar barb is species of cyprinid fish. The origin is East America. Zanzibar barb can be smoked, baked, or with sauces. Usually, it is prepared with spices and then dipped in coconut sauce or curry. 
In Malaysia it is served with rice. In most restaurants, it is served with coconut sauce and curry. You can eat it as a fillet or side dish. 
11. Zapples
Zapples are apple chips introduced in North America. These snack fruits are now consumed as low calories chips.
Fruits already are antioxidants but adding flavor made them attractive and valuable. Apples are wiped with a paper towel sliced and baked with little spices and organic sugar keeping the taste and flavor maintained.
These low-calorie crispy chips are eaten as a snack and served as an appetizer with other dishes for dining.    
12. Zea Mays
Zea Mays is used as a staple food all around the world. It is largely produced in the United State. Another name of Zea mays is corn.
Zea Mays is generally used in homes all around the world. Corn starch is a common item used in most home and industrial products. It is used for making cake, muffin soups, and many other products. Baby corn is used in most fast food and baked corn is used eaten as food
14. Zabergau Reinette:
The Zabergau Reinette apple first originated in Germany in 1885. There are golden brown, large russet fruits. 
 Zabergau Reinette used as a food. It is also for making apple cider vinegar. As a food, its delicious juicy flavor is most suitable for making apple pie. It can be used all-purpose as fruit and other edible things. The peak season of this fruit is November and February.
Zabergau Reinette can be used to cook apples and desserts. Its crispy and juicy taste makes it a perfect snack. 
15. Zaghloul Dates
Zaghloul Dates are grown in Israel, India, and Egypt. First, these dates were cultivated in Egypt and after that in eastern Arabia and in Pakistan.
These dates are mostly eaten fresh and can be cooked or raw. Once they are ripped can be stuffed, baked, pureed, or wrapped. It is mostly used in sugar syrup, ice cream, and chocolates. It is also used for jams and jelly.
16. Zebra Cake
We are familiar with chocolate and vanilla cake, probably made up in zebra style. Mostly taken along with a coffee cup or milk. 
Zebra cake is a combination of milk, butter, sugar, and chocolate. This delicious creamy cake can be eaten as it is.
In hotels, it is served as a dessert or with tea and coffee. The chocolate topping on it makes this cake more appetizing. 
17. Zeppole
This dish was popularized by a beaker Neapolitan in the 19th century. Mostly famous in Malta, the US, and Italian restaurants. It is also called frittelle.
Zeppole traditionally served and presented gifts as Festa di San Giuseppe in Italy. It is a creamy pastry filled with nuts, candied fruits, and chocolate. The pastry dough is made up of egg-sugar ricotta and flour in which vanilla essence and almond are added to give flavor. 
It is served in Italian cuisine as an appetizer. Loved by many to eat it as a delight and dessert. 
18. Zereshk Polo
Zereshk polo is the classic Persian barberry rice. These are widely grown in West Asia and Europe. Iran is known as the country where their use is the most.
Zereshk polo berry is known as an enriching pilaf in Persian cuisine. Mostly used for flavoring the poultry meat. Due to its sour taste, it is cooked with sugar before being added to the Persian rice. 
In Russia, these berries are mostly used in jams. In the Iranian market, dried nuts are sold like dry nuts.  
19. Zesta Saltines
Zesta saltines are crackers introduced by an American company founded in 1853. It is also said that these crackers were described by a housekeeper in 1838.
Zesta saltines are also known as saltines crackers. The name saltine is due to its baking with salt. These are light snacks made with cheese, peanut butter, or other light spices.
It can be served as a snack or crumbled or dipped in soup, stew, or salad. In restaurants, a pack or two of wrapped crackers is served with soup. It is also used as a home remedy for nausea and upset stomach.  
20. Zebra Eggplant
There are white striped eggplants. In most places, it is also known as graffiti eggplant or fairytale eggplant. Their size is a little smaller than that normal eggplants. 
Zebra eggplant can be cooked, baked, or tossed in tomato and onion sauce just like conventional eggplant. Their taste is sweet due to the thin skin and small size seed.
This dish can be served with bread or rice. It is normally served as sauce or gravy along with other dishes at dinner.  
21. Zest
It is an ingredient that is obtained from the scraping or cutting of the fruit's skin. Mostly used to add flavor to food. The white pith from citrus fruits is called flavedo or zest.  
Zest is a common ingredient used in bakery items. It is added to cakes, pastry pies, pudding biscuits, etc. It is also added to in-store food like pickles.  
In bars, it is used in cocktails not to add flavor and aroma but for garnishing. For garnishing the spiral is cut from the fruit called twist. . In industry it is also used in marmalade and chutney
22. Zhe
The origin of this fruit is East Asia. It looks like mulberry although it does not belong to the berry family. These berries grow in the form of clusters on trees and give a reddish look like a bumpy oval.  
Zhe fruit is sweet in taste. Its taste is similar to fig and melon. A slight chew is needed to get the full taste of this juicy fruit. The taste of every berry is different as they are ripe at different rates even though they are in one cluster. 
23. Zigeunerschnitzel
This dish originated In  Germany. Zigeunerschnitzel is named after the sauce that is topped on it. The other alternative names of the dish are paprika schnitzel and balkanschnitzel.
This dish is a combination of pan-fried veal, thin breaded pork, or chicken cutlet with a sauce topping. Zigeuner sauce is made with bell pepper of different colors, onion, tomatoes, mushrooms, water, wine, and paprika.
This dish is usually accomplished with fries, salad, or rice. This dish is not home-cooked food. So people enjoy this in the cafeteria and restaurants. 
24. Zimtsterne
Zimtsterne is an Austrian Christmas biscuit. It is glazed with lemon and sugar.
It is a combination of egg, sugar, almond cinnamon, and a pinch of salt. The dough is cut into a star shape before baking. The icing is applied in the center of the star to make it prominent. 
Their biscuits are perfect snacks for the special occasion and served with tea or coffee or as it is. 
25. ZigZag Fruit
ZigZag fruit is a plant species that is found in eastern America. It is also known as Melodorum leichhardtii.
This special orange fruit is juicy in taste. It is used to give the orange flavor. Mostly used in a sauce for gourmet dishes. It is also used in beverages and liqueurs due to its citrus flavor. 
26. Zinger Burger
Most popular fast food in America. It is an ultimate satisfying food that is crisp and loaded with flavor. It is introduced by KFC.
Zinger burger is a combination of bread, chicken cheese, and salad. The chicken is fried with crispy spicy material and then it is placed between the specially made bun bread. The cheese and sliced cucumber are added to enhance the taste.
In restaurants, it is normally served as a whole meal with fries and cold drinks. 
27. Zigeuner salat 
This dish originated in America. It is specifically made with potatoes. Mostly known as potato salad. It is quite difficult to spell because of the lack of popularity of this special dish. 
This sauce is made with different bell pepper then tomatoes are added with ground Hungarian paprika to add the spices. After that, it is served with fried or baked potatoes. 
Zigeuner Salat is mostly considered fast food in German restaurants.
If you want to learn more about fruits and vegetables then check out my article on are potatoes vegetables or fruit?
28. Zrazy
This dish was invented in the Polish and Lithuanian regions. Poland also claimed to introduce the Zrazy.  It is Poland's popular meat dish. 
It is a roll-shaped dish. It is made with thinly sliced meat of beef. It is Stuffed with Flavors like salt mushrooms, eggs, and spices. Then fried in oil and then heated at low temperature. 
Zaray is normally served with sauce. It is garnished with barley and crumbled kasha. Zrazy can also be made with the meat of pork and veal.
29. Zoodles
This is a hot trending dish in US news in 2014. Its popularity was due to the spiralized vegetable and low calories food. Zoodles are basically a combination of Zucchini and noodles. 
This basic combination of his dish is noodles, zucchini, salt, and water. A special slicer is used to cut the zucchini in a perfect spiral shape. The zucchini can be cooked, boiled, or baked as per the taste then noodles are added with a little spice.
30. Zuriat Fruit
It is also known as African palm or doum fruit. This fruit originated in North Africa. A huge amount of this fruit is sold in Saudi Arabia.
This fruit is covered in woody brown fibrous skin. Inside is a fibrous flesh covering the seeds. This flesh can be eaten raw or cooked. It is used in cakes and sweets. The bread resembles gingerbread due to its tart and sweetish flavor.  Seeds of this fruit are also edible and used for boiling and or baking just like vegetables.
31. Zuppa Toscana
Zuppa is popular in North America. The meaning of this word is "Tuscan soup". 
This soup is a combination of cannellini beans, potatoes, onion, carrot, kale, tomato pulp, and olive oil. Carrots and onion are lightly toasted in oil.  Other vegetables are added and cooked with water for 15 minutes.
This soup is served with Tuscan bread with a little sprinkle of olive oil in it.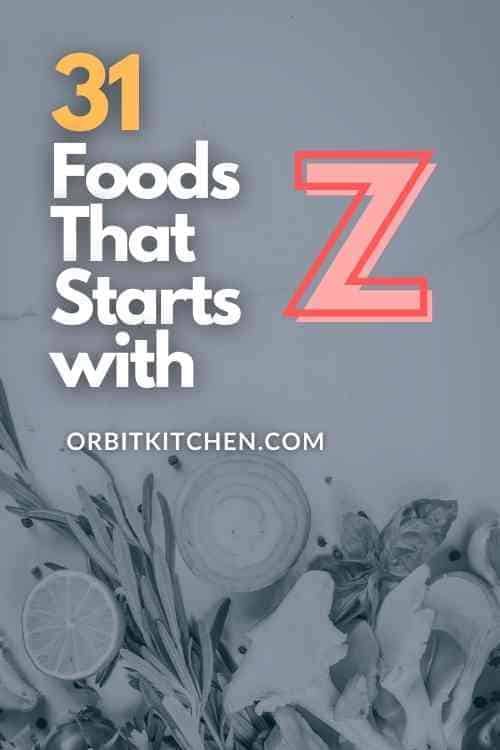 ---
Related Posts