This post contains affiliate links.
You might be a huge smoothie fan, and your day is always incomplete without having one. But sometimes, your blender might not be working well, or you don't have it at hand. There is no need to give up on your smoothie of the day because there might be other options to consider, like the food processor.
You can make amazing smoothies using a food processor and almost always achieve the same results as the blender. The order in which you add your ingredients differs with a food processor instead of a blender. The food processor has multiple functions, making it more expensive than a simple blender to blend. 
Are you still interested in finding more about smoothies and food processors? We have also got a guide on making the perfect smoothie in your food processor. Continue reading to find out.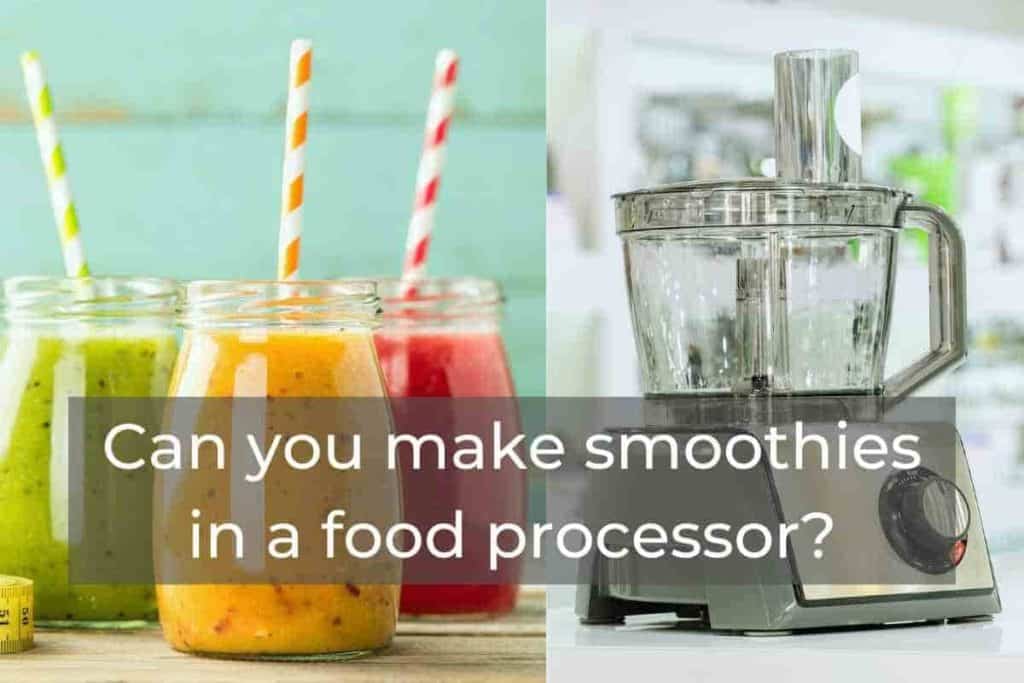 If you are interested in checking out the best food processors, you can find them on Amazon by clicking here. 
Is a Food Processor Good for Making Smoothies?
You can use a food processor to make the smoothie, although this might not be the best choice. A food processor is designed to do a lot more than just blending smoothies. You can use it to dice, mash, chop, whisk and knead food. A food processor is for solid foods, and a blender is for liquids. 
Blenders provide a creamy consistency that might be a bit different with a food processor.
The blender is the simplest and ideal for making smoothies, but if you don't have one, you can also use your food processor rather than buying a blender only for making smoothies. 
You can check out this Ninja BN801 Blender, on Amazon here. 
Are All Food Processors Suitable for Making Smoothies?
You can use all food processors to make a smoothie, but this can vary when it comes to chilled smoothies. You will make chilled smoothies from blending or crushing ice, which is impossible with every food processor. Compared to blenders, food processors are strong, but still, every food processor will not crush ice. You might want to consider a food processor with strong blades for crushing the ice and making a chilled smoothie. Generally, chill smoothies do not appeal to everyone; therefore, this might not be a big deal.
Almost all food processors can make a perfect smoothie.
If you like this best-seller Hamilton Beach Food Processor, you could buy it on Amazon here.
How to Make Smoothies in a Food Processor?
Follow the following steps to make a perfect smoothie with your food processor:
1. Add Leafy Green Vegetables First:
All leafy greens are highly nutritious, and the chances are your smoothie might also have one of these as the main ingredient. These greens like kale and spinach are healthy but bulky and difficult to break down. Therefore add them first to make sure that they break down properly and thoroughly. Pulse all the greens until they turn into a fine paste and are perfectly smooth.
2. Mix the Fruit:
Once your leafy greens are completely chopped and smooth, then you can add the fruit of your choice. The best options for fruits are banana, pineapple, and papaya because they blend in with all other flavors, such as greens. If you want thick and cool consistency, you can add frozen fruits. You will use the feed tube in your food processor to add your fruit when the speed is low.
3. Add Health Boosters:
These can include oats, barley, and other powders and seeds. Add boosters at this step and add them simultaneously, ensuring that everything blends in and is appropriately incorporated. These boosters add to the flavors and energy of your smoothie.  
4. Add Sweeteners:
It is now the time to add sweeteners such as honey and maple syrup to your smoothie. These will make your smoothie sweet and give it a smooth consistency and load it with more minerals and vitamins.
5. Add Liquids:
Now you can add your liquid base, including water, milk, or any other dairy product like coconut milk. You can also add greek yogurt for creaminess and added richness.
6. Bring Everything Together:
Now that you have added everything, you can pulse your food processor and mix everything. Don't worry if the consistency is slightly different from what you usually get with a blender because technically, a food processor only purees. You might see some tiny pieces of fruit or greens in your smoothie.
7. Serve your smoothie:
Remove the blades and pour your smoothie into a glass. Don't forget to scrape off any smoothie that is left. Enjoy your smoothie without using your blender. 
Read Also: Are Mason Jars Freezer Safe?
Can You Make a Smoothie Bowl in a Food Processor?
You can make a smoothie bowl easily with a food processor. Many people don't have high-speed blenders and think they cannot make a delicious smoothie bowl. The truth is that if you do not have a high-speed blender that is ideal for making smoothie bowls, a food processor will be able to do this job very well for you. 
Based on my personal experience, you meant frozen fruits for the food processor; they can do the job much better than the blenders. 
If you are interested in this set of smoothie jars, feel free to check it on Amazon here.
Can You Blend Frozen Fruit in a Food Processor?
You can quickly and conveniently crush frozen fruits inside a food processor because of their sharp blades. Although some food processors cannot work with the ice, you can check the specifications of your machine before purchasing to make sure that it works well with frozen foods. 
Food processors are generally stronger than blenders and better when working with ice, frozen items, and fruits. The trick here is always to freeze your fruit in small chunks so that you can process them in your food processor efficiently without over-stressing your blades and damaging them over time.
Read Also: How Long Does Water Stay Hot in Electric Kettle?
Conclusion
You can make satisfying and appealing smoothies using a food processor instead of a blender. The consistency might be slightly different, but the taste and nutrition will always be the same.