This post contains affiliate links.
Whether it's a cake baked for your wedding anniversary or a showstopper baked item saved for your kid's birthday bash, your time and effort deserve to enjoy it even later. But how? Use the cake stand to keep the baked items delicious and fresh. Luckily for you, we have adequately researched the use of cake stands for maintaining the cakes fresh.
Do Cake Stands Keep Cakes Fresh?
The covered cake stand keeps your cakes, pastries, pies, muffins, and bread entirely fresh for 2 to 3 days. Also, the cake stands with a glass dome top help to regulate moisture and keep cakes fresh for days at room temperature. So if you want your cakes to stay fresh without a fridge, it is wise to place them on a covered stand. 
The freshly baked cakes and cupcakes are unbeatable, but it's a reality that we can't eat them in a sitting. So it is advised to store a cake in the cake stand properly to keep it delicious and edible for later use. 
You only need a counter space in a room with a cake stand. Put the cake in it, cover the stand with a lid and let your cake stay fresh for 3 to 4 days. After a time, most probably, the texture may get drier due to the removal of moisture. Use cake stands and keeps your cakes edible for longer.
If you are interested in checking out the best cake stands, you can find them on Amazon here. 
Key Points at a Glance:
A glass dome cake stand will keep your cakes fresh for days at room temperature.
The cake will stay fresh for almost 2 to 3 days if kept on the counter in a cake stand.
A glass dome cover makes the cake stand airtight.
The airtight cake stands can also keep other baked goods fresh if you follow care tips.
You may consider the substitute for cake stands if you don't have a cake stand.
How Long Does a Cake Last in a Cake Stand? 
If kept on the counter in a cake stand, the cake goes for almost 2 to 3 days. However, wrapping the whole stuff in plastic wrap will keep it moist and enhance its freshness.  
The shelf life of the cakes depends on different factors like preparation method and storage technique. When you store the cake in a tightly closed container and keep it away from the contaminants, you can increase its shelf life.
You must have admired the wonders of modern refrigeration as much as you get reluctant to leave your cake leftovers on your counter. But when it comes to enjoying a fresh piece of cake even after a few days, a cake stand is the most reliable appliance.
The airtight lid on the top of the cake stand evenly regulates the moisture and maintains the freshness of the cake for longer. But make sure that you keep the cake away from the stove heat, direct sunlight, or condition that changes the temperature significantly.
However, if you want to store the cake for more than three days, place your airtight cake stand in the freezer. A regular sponge cake can withstand room temperature conditions for many days. And, for your cake with fruit filling or icing, the fridge is the most suitable option. It will prevent the cake from melting and the absorption of off-fridge funky smells.
One of the most important things to consider when using a cake dome is what you will put under the cake dome. This is important because it will help regulate moisture and keep cakes fresh for days at room temperature. There are a few options that you can use, such as a cake plate, a cake stand, or even a simple plate. Whichever option you choose, just be sure that it is clean and dry before placing your cake on top.
Are Cake Stands Airtight?
The cake stands consist of a glass dome that makes them airtight and are perfect for keeping the filling fresh and sponge soft. Some cake stand come with locking clips and handles, making them even more handy and wonderful. 
Those crumbs at the bottom of your favorite cake turn crunchy and go stale even after cutting only one slice. Right? How to protect them? For this, airtight cake stands are the best containers that help transport and prolong the storage of the cakes.
In addition, they can settle quickly in the fridge to the food processors, and you can also wash them thoroughly. They are perhaps the best choice for your decorative cakes and biscuits, which you leave on the sideboard.
Airtight cake stands are the top pick for your cakes' prolonged freshness and life. Also, they maintain the beautiful look of your cake. So this is the reason the restaurants and bakeries use airtight cake stands to cover their beautiful desserts and baked items. Also, they enhance the look of your kitchen.
Click here to see this airtight cake stand on Amazon.
Do Cake Stands Keep Baked Goods Fresh?
Yes, the glass dome cake stands to keep the baked goods fresh for at least 2 to 3 days.
You can easily handle and store your favorite baked treats and still serve them fresh even a little later. All this can be possible through an airtight cake stand. Place your baked goods on the airtight cake stand or adequately wrap them in plastic wrap. You can easily use them within the next 2 to 3 days.  
The baking season is around the corner, and it's time to maintain the freshness of baked goods. The gorgeous cake you prepared for your occasion is primarily a piece of art that took a lot of your time and energy.
If you're not careful, your cake can shrink after baking. This is especially true if you don't have proper support for it. A cake display stand can offer maximum protection to your masterpiece and prevent it from shrinking.
Even the baked goods which we usually refrigerate stay fresher on the tabletop.
Pro Tip: In summers, the kitchen is warm. The heat may dry out the sponge and melt the frosting, so Keeping the cake stand in the refrigerator is recommended. Then later, when you need to use it, allow it to stand at room temperature for some time.
Care Tips for Cake Stand
Thoroughly wash the body and lid of the cake stand.
Don't wash it with steel scrubbers; instead, use the smooth sponge and save it from scratches.
Make sure your cake stand is level before adding your cake. A level cake will help prevent it from toppling over.
If you're using a tiered cake stand, make sure the cakes are securely fastened to the stands before adding any decorations.
Be careful when moving a cake stand with a cake on it. Support the cake from the bottom as you move it to avoid accidental dropping.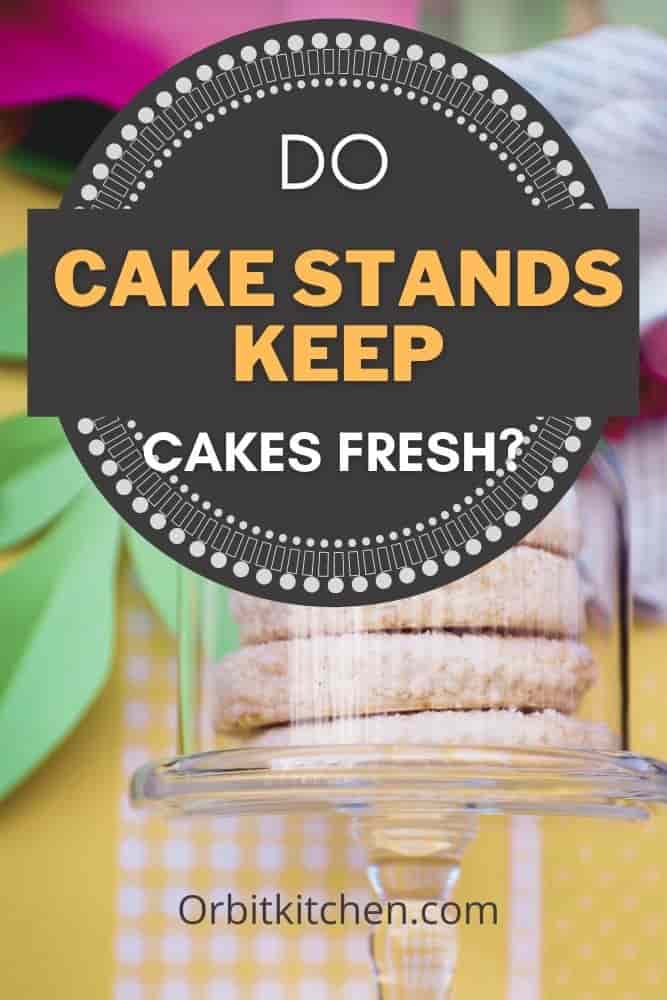 How to Cover a Cake Without Ruining Frosting?
If you want to cover a cake without ruining the frosting, you will need to follow a few steps.
First, Make sure that the cake is completely cooled. If the cake is even slightly warm, the heat will cause the frosting to melt and become a mess.
Next, lightly dust the cake with flour, this will help the fondant to stick to the cake and not the frosting.
Finally, roll out the fondant and carefully place it over the cake, be sure to smooth out any wrinkles or air bubbles.
What to Put on a Cake Stand Other Than Cake?
A cake stand can also be used to display other desserts, such as cookies, cupcakes, or pies.
Following is the list of things you can put on a cake stand other than cake.
Whatever you choose to put on your cake stand, make sure it looks cohesive and is pleasing to the eye.
How to Store a Cake Without a Cake Dome?
The best way to store a cake without a cake dome is on a cake plate with a lid or in a cake tin. Place the cake in the fridge if it is a hot day or if the cake has frosting or filling that could spoil.
However, a cake dome helps to keep a cake fresh and moist and without a cake dome, a cake can dry out quickly or become stale.
There are also some other ways to store a cake without a cake dome. One way is to wrap the cake in plastic wrap or aluminum foil. Another way is to store the cake in an airtight container. This will also help to keep the cake from drying out.
What Can You Use Instead of the Cake Stand?
In recent years, the cake stands are drawing more attraction than the cake itself. It seems that every event is trying unique cake stands to offer you the dream occasion.
But, there are much suitably sized cake stand substitutes that can showcase your cake in a much more glorious way.
Substitute cake stands include:
Pie or Tart Pan
Plastic Cake Stand
Hat Boxes
A Stake of Large Books
A Piece of Wood
Pie or Tart Pan
If you are fond of different cake stands, a pie or tart pan is the best option. Just choose an inexpensive candlestick holder and paint it with your required color. 
Click here to see this pie tart pan on Amazon.
Plastic Cake Stand: 
You can also use a plastic plate or plastic wine glass to support your delicious cake. You only have to hot glue the bottom of the glass to the base of the dish and spray your desired paint.
Click here to see this plastic cake stand on Amazon.
Hat Boxes: 
Hat boxes can make a great alternative to the cake stand as they are readily available in a different range of shapes and sizes. If you have a problem selecting the perfect one for your cake, get scissors and personalize one according to your requirements.
Click here to see this hat box on Amazon.
A Stake of Large Books: 
The best cake stand can be no other than a stake of large books for the book worms. These can be your coffee table favorites or love novels.
A Piece of Wood: 
For the rustic feel at any wedding, a piece of wood can display your masterpiece in a much more beautiful way. The best-rated wood cutting boards are conveniently available on Amazon, you can view them by clicking here.
With a bit of creativity, you can prepare the best cake stands.
Conclusion
The glass cake domes are suitable, but it's okay if you are without them. Just make sure that you have a deep bowl that is large enough to cover the whole cake. Besides this, you only need counter space, and you are good to go. This easy-to-follow tip will store a cake you made after spending a lot of your time. 
After all, it would help if you wanted to keep your cake fresh for longer. Right?
If you are interested in buying the best bakeware products and accessories for the kitchen, be sure to visit my Recommended Products Page (click to see my page) Which includes all of my top picks by category.